Benefits of Prolia Injection (Denosumab) for Osteoporosis Treatment Q&A
The way Prolia works is by preventing a protein called RANK (receptor activator of nuclear factor kappa beta) from breaking down bones in the body. Prolia is injected by our medical professionals at Jean Walter Infusion Center every six months. By reducing bone loss over time, Prolia helps your bones become more dense and durable. This reduces your chance of suffering a bone fracture. For more information,

contact us

or

book an appointment

online. We have convenient locations to serve you in Maryland. We have convenient locations to serve you in

Catonsville MD

,

Rosedale MD

,

Baltimore MD

,

Columbia MD

,

Glen Burnie MD

,

Edgewater MD

, and

North Baltimore

.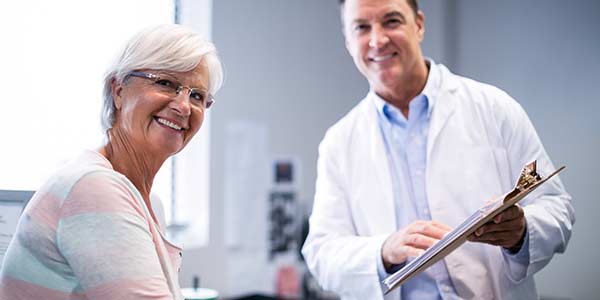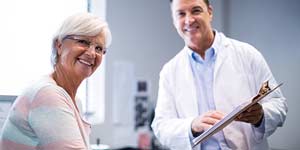 Table of Contents:
What are the positive effects of Prolia?
How long does it take for Prolia to improve bone density?
How does Prolia strengthen bones?
What are the main benefits of the Prolia shot?
Being a very prevalent condition in the older population, osteoporosis can develop without showing symptoms or indicators until an injury takes place. When a patient develops osteoporosis, they will likely not notice any changes but their bones are gradually weakening by decreasing in density, so even a mild fall can result in a bone break, often in the spine, wrist, or hip. Prolia is an effective injectable medication that only requires administration every 6 months to help restore the strength and density back into a patient's bones to allow them to live comfortably again with a significantly decreased risk of bone fractures or breaks.
What are the positive effects of Prolia?

Prolia is an effective medication for improving the bone density of those suffering from osteoporosis or bone loss, particularly used as a treatment method for those who are postmenopausal, suffer from osteoporosis, or are at an increased risk of incurring a fractured bone. Receiving regular injections of Prolia works to improve the strength and density of the patient's bones through the slowing down of bone loss. Stronger and dense bones are less prone to suffering from fractures, reducing the risk of more significant injuries in the treated patients. It is also an effective treatment for those who have suffered from bone loss due to prostate cancer or breast cancer, as it can be used on patients who have cancer that has stopped spreading.
How long does it take for Prolia to improve bone density?

Bone density can be measured using bone mineral density (BMD) to determine the strength of the tested bones. The medication will work to significantly increase the BMD of a patient's bones within 10 days following administration, with patients often being recommended to continue receiving injections every 6 months (the BMD levels will start to decrease again after 4 to 5 months) to maintain the increased BMD as part of long-term treatment. Most of the clinical trials only provide results for patients that have been on the medication for 3 years, but it has been approved for regular treatment spanning at least 8 years, and potentially longer for those who have significantly benefitted from treatment while experiencing minimal side effects. Results provided after 3-year clinical trials have shown that the average BMD of females increased by 5.2% in the neck, 6.4% in the hip, and 8.8% in the spine.
How does Prolia strengthen bones?

Prolia is made of a lab-made protein that works with the immune system of the body into which it is injected to prevent bone loss. Injections of Prolia work to help increase bone density by blocking the breaking down of bone tissue by osteoclasts (specific bone cells). Over time, the blocking of these cells will result in increased strength and density of the bones as the loss of bones decreases. The medication will typically stay in a patient's system for 4 to 5 months and continue to work to slow down the process of bone loss during that time. The next dose of Prolia will be administered every 6 months. It is a common medication that is used alongside other treatments that are known to cause loss of bone density, as it can effectively combat that risk, or as a treatment for patients who have not had any positive results from other types of osteoporosis treatments. It is considered a long-term treatment option that will continue to decrease the risk of a bone fracture throughout the entire span of treatment.
What are the main benefits of the Prolia shot?

Aside from being an effective treatment for many patients and reducing the risk of severe fractures and injuries that are often associated with the older population or those with decreased bone density and strength, the Prolia shot also comes with other benefits as a course of treatment. One of the biggest benefits is that patients will only require one injection of the medication every six months, making it a far less invasive and inconvenient treatment option than many others that are available. Prolia also has a higher success rate in increasing the BMD than other injectable medications for osteoporosis available currently, making it a great option for those who seem to respond well to the treatment and are not experiencing any significant side effects.

Bones that have been strengthened by prolia are less likely to break. Every six months, it is administered as an injection. At each of our locations, we provide patients receiving infusion and injectable therapy with high-quality, compassionate care. For more information, contact us or book an appointment online. We have convenient locations to serve you in Maryland. We serve patients from Catonsville MD, Rosedale MD, Baltimore MD, Columbia MD, Glen Burnie MD, North Baltimore, Edgewater MD, Parkville MD, Middle River MD, Dundalk MD, Halethrope MD, Ellicott City MD, Laurel MD, Hebbville MD, and Woodlawn MD.
Additional Services We Offer