Benefits of IVIG (IV Immunoglobulin) for Myositis Treatment Q&A
In severe myositis cases, especially when swallowing muscles are affected, intravenous immunoglobulin, or IVIG, a drug, may occasionally be infused monthly. IVIg is a useful therapeutic choice for myositis patients. Visit our compassionate team at Jean Walter Infusion Center for the treatment of myositis. For more information,

contact us

or

book an appointment

online. We have convenient locations to serve you in

Catonsville MD

,

Rosedale MD

,

Baltimore MD

,

Columbia MD

,

Glen Burnie MD

, Edgewater MD, and North Baltimore MD.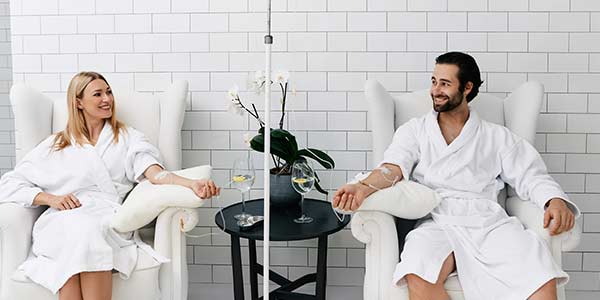 Table of Contents:
What vitamin is deficient in myositis?
What is the role of IVIg in myositis?
What IV treatment is used for myositis?
What are the benefits of IVIg infusions?
Through supporting the immune system of patients, IV immunoglobin infusion therapies are able to provide treatment and relief for patients suffering from a wide variety of conditions that have led to a compromised immune system. Regular infusions will strengthen the immune system, help the body to fight off other diseases and lower the risk of developing infections. The term myositis refers to any condition that leads to inflammation of the muscles, likely caused by an injury, infection, autoimmune condition, or side effects from medications. The common symptoms of myositis include pain, weakness, and swelling in the muscles, and many patients who receive treatment through corticosteroids or other medications are prone to eventually building up resistance to that type of treatment.
What vitamin is deficient in myositis?

Those who suffer from myositis, or other conditions that lead to inflammation in their muscles, are likely to also be diagnosed with a deficiency of vitamin D. Vitamin D is essential for proper muscle functioning as it supports the body's ability to absorb calcium and phosphorus into the bones. Low levels of vitamin D result in an increased risk of fractures in the bones, as well as pain and weakness in the muscles. A severe vitamin D deficiency will also increase older adults' risk of falling and being severely injured. A severe vitamin D deficiency alone can lead to various types of bone disease.
What is the role of IVIg in myositis?

IVIg is the intravenous administration of immunoglobin (antibodies), which has proven to be an effective option for treatment in patients who suffer from polymyositis or dermatomyositis and that is resistant to previous treatments involving medications and corticosteroids. Treatment with corticosteroids or other immunosuppressant agents is a typical option for those with polymyositis or dermatomyositis, but there are some patients in whom the disease does not respond to these typical treatments, but who do respond well to IVIg. The intravenous administration of high doses of immunoglobin is an effective treatment for several neurological disorders that are immune-mediated, and when used as a treatment for myositis, patients are likely to experience the benefits as well, with those with dermatomyositis reporting a significant improvement in their functional abilities. IVIg is a safe and effective alternative for those who have not achieved relief or developed resistance to the typical treatment options. This treatment is used to relieve patients of symptoms associated with their condition by regaining muscle strength and functionality.
What IV treatment is used for myositis?

There are a couple of effective IV treatment options for dermatomyositis; Intravenous immunoglobin (IVIg) infusion, and Rituximab infusion. IVIg infusions are the more common treatment option and involve the infusion of antibodies derived from donated human plasma to combat the antibodies that are causing damage to the muscles and skin. While dermatomyositis does not currently have a permanent treatment, regular IVIg treatments are an effective means of treating the symptoms and providing relief and functionality to the patient to allow them to live as comfortably and normally as possible. Though studies are still being conducted on the use of IVIg therapies for those who suffer from myositis, dermatomyositis is currently shown to be effectively treated through IVIg with significant improvement in symptom reduction and restoration of muscle use. This treatment is considered to be very safe and is one of the most effective options available for those suffering from dermatomyositis who have found other treatment options to be insufficient.
What are the benefits of IVIg infusions?

While it can be used to treat specific autoimmune conditions, IVIg is effective at managing the immunodeficiencies that are present in many conditions, including autoimmune disorders, infectious disorders, and inflammatory states. Through the administration of antibodies that are specifically chosen to counteract the problem of antibodies causing the symptoms, the immune system will be able to normalize, allowing it to be less compromised in general. Since it essentially regulates the immune system, inflammation in the muscles will decrease and eventually support the immune system to more effectively fight off other infections or viruses, allowing patients to feel better and be healthier in general. If the treatment is effective, patients will notice a significant reduction in all of their associated symptoms that are caused by their myositis diagnosis.
 
Patients with resistant skin conditions like myositis can benefit from intravenous immunoglobulin (IVIg) therapy at Jean Walter Infusion Center. For more information, contact us or book an appointment online. We have convenient locations to serve you in Maryland. We serve patients from Catonsville MD, Rosedale MD, Baltimore MD, Columbia MD, Glen Burnie MD, North Baltimore, Edgewater MD, Parkville MD, Middle River MD, Dundalk MD, Halethrope MD, Ellicott City MD, Laurel MD, Hebbville MD, and Woodlawn MD.
 
Additional Services We Offer